Public Education
The South Trail Fire & Rescue District is proud to offer a wide range of public education programs to all members of the South Trail community. Fire and life safety programs are presented in a variety of settings--in the South Trail Safety House and fire stations, daycare facilities, schools, businesses, health care facilities, and communities.
South Trail Safety House hours are Monday through Friday, 8:00 a.m. to 5:00 p.m. Some weekend and evening programs are available by appointment.
Fire and life safety programs for adults include:
Community Emergency Response Team (CERT) training
American Heart Association CPR/AED classes
American Heart Association First Aid classes
Smoke Alarms and Batteries for South Trail Fire District residents
Home Fire Safety Survey
Fire Extinguisher Training
Fire and life safety programs for children include: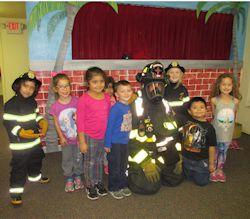 Child Car Seat Inspections
Fire Safety Puppet Show
Fire Station Tour
Fire Truck Tour
Bunker Gear Demonstration
9-1-1 Call Simulator
LCFMIA Fire Safety House Trailer
EDITH (Exit Drills in the Home) practice
Hazard House Simulator
Home Safety Skills
Youth Firesetting Educational Intervention Program
Safety House
The South Trail Safety House is located at 2112 Crystal Drive, next door to Station 61.  Hours are Monday through Friday, 8:00 a.m. to 5:00 p.m., and by appointment.

CERT
The Community Emergency Response Team (CERT) program trains people to be prepared for emergency situations in their community and neighborhood. CERT members provide immediate assistance to victims, collect disaster information to support first responder efforts and provide that first neighborhood help in the immediate hours following a major emergency.

Safety Links
Child Passenger Safety/ Wildfire Safety/ Water Safety/ Hurricane Safety/ Fire Safety Away from Home/ Traffic Safety/ Home Fire Sprinklers

Safety Tips
The following fire safety tip sheets are created by the National Fire Protection Association (NFPA) using statistics and research on fire in the United States.  For more safety tips, visit the NFPA Website.

Page Last Updated: Feb 23, 2018 (15:33:15)